---
It's no secret that the pandemic has left a huge impact on businesses worldwide. According to a survey conducted by McKinsey & Company, 80% of B2B sales have moved to remote or digital interactions. With the majority of sales teams experiencing a decline in the number of new customers. The economic downturn has forced businesses to reduce spending, leaving sales teams with limited funds to close deals.
But don't worry! We're here to provide you with four sales tools that will help you navigate through these tough times. These tools will enable you to focus on your existing customer base. It can also create new opportunities that can help you drive sales.
So, if you're looking for ways to close more deals and increase your revenue without investing more in marketing, keep reading. These four sales tools are here to help you make the most of every click and every lead.
---
Tool 1: Marketing automation software
Marketing automation software is a perfect tool that can help businesses survive an economic downturn. With so much uncertainty, it's important to have a tool that can track the behaviour of your website. It will also help you understand where the customers are in the buying journey.
Nextiva is a marketing automation software solution that works across many platforms. By using this you can access data points that show which content your visitors have consumed. The resources they have downloaded, and how often they have visited your website. Based on their interest and desired actions, you can send targeted messages. Personalizing emails, content, and social media can compel customers to buy. Nextiva's SEO tool recommends competitive keywords to attract and engage customers.
It collects customer behaviour data and provides location-based, personalized content.
Account-based marketing allows you to create an audience segment of VIP leads. It can then serve different content to visitors from those companies.
Using Nextiva, you can stay ahead of the competition and keep your business thriving in a tough economy.
Tool 2: Customer Relationship Management (CRM) Software
In our last section, we talked about marketing automation software. Now, let's dive into the 2nd tool on our list – Customer Relationship Management (CRM) Software.
When it's hard for businesses to keep customers, it's important to have a tool that can help you manage your relationships with them. That's where CRM software comes in!
With a CRM system, you can store all your customer data in one place. This includes their contact information, sale history, and communication preferences. This can keep track of all your interactions and provide a personalized experience every time they engage with your business.
But that's not all! A CRM tool allows you to automate your customer outreach, sending targeted messages at the right time. This helps you stay top of mind and build long-term relationships with them.
Moreover, it provides you with valuable insights into your customers' behaviour and preferences. You make informed business decisions and tailor your offerings to meet their needs.
A CRM tool is an essential investment for any business looking to survive a tough economic time. It helps you manage your customer relationships, keep customers, and drive revenue. So, if you haven't already, consider investing in a CRM system today!
Tool 3: Collaboration and Project Management Tools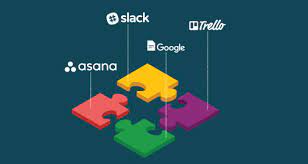 The recent economic downturn has forced businesses to adapt to remote working. Thus, Collaboration and project management tools are essential in keeping remote teams on the same page. It helps your team in staying organized and achieve productivity targets. Teams can collaborate in real-time, track progress, and interact efficiently using these tools.
Popular tools like DealHub, Asana, Slack and Trello have been game-changers in this industry. It makes teamwork more manageable and effective. DealHub, for example, is an all-in-one platform that helps sales teams close deals faster and in a more efficient way.
It keeps teams organized and connected while sharing data with your Salesforce or HubSpot CRM. Let's explore DealHub's features and how they can benefit your team.
Guided Selling Playbooks –
Salespeople can create accurate quotes, sales materials, and legal contracts with this tool. This feature helps cut errors, saves time, and ensures consistency in sales materials. The end result is that customers have a better experience.
Contract Lifecycle Management –
This feature streamlines the contract management process. It helps teams keep track of contracts, their status, electronic signatures and storage. This feature reduces the risk of errors, ensures compliance, and saves time.
DealRooms –
This feature creates virtual spaces where both buyers and sellers can work on the same deals. With these, they can also see each other's actions in real time. It then helps speed up the sales process and reduces the need for in-person meetings.
The Sales Workspace –
This feature is a one-stop shop for sales teams. They can see their own completed and outstanding tasks, as well as analytics, all in one place.
Open Data Platform –
This feature makes it easy to connect with other sales tools and share data. It helps ensure data consistency and saves time by avoiding manual data entry.
DealHub is a great example of how collaboration and project management tools can boost a team's productivity.
Tool 4: Business Intelligence and Analytics Tools
Business Intelligence and Analytics Tools are essential for businesses focusing on data-driven decisions. These tools provide insights into customer behaviour, sales trends, and marketing performance. It can identify areas of improvement and optimize your operations for the greatest efficiency.
One example of a Business Intelligence and Analytics Tool is Tableau. It is a data visualization tool that allows businesses to turn data into actionable insights. It enables users to create interactive dashboards & reports that is sharable.
You can share it with any stakeholders across the organization. With Tableau, businesses can spot trends and patterns in their data. They can identify areas of improvement, and make data-driven decisions.
Another example of a Business Intelligence and Analytics Tool is Leadfeeder. It is a B2B automation tool that helps businesses turn website visitors into leads. It integrates with Google Analytics and provides businesses with data and metrics.
It presents a clear picture of users who visited their website, the specific landing pages they visited, and how long they stayed. This information helps marketers qualify leads and focus on their outreach efforts.
This tool also offers email addresses and social media profiles associated with people who work at these companies. It also allows businesses to warm up leads across many channels.
The features and benefits of Leadfeeder include:
1. Automatic lead capturing:
It captures leads from your website, even if visitors don't opt in via lead capture forms.
2. Integration with Google Analytics:
It integrates with Google Analytics and provides valuable data on website traffic.
3. Fast and lightweight:
Its code is fast & lightweight, ensuring that it doesn't slow down the website's performance.
In conclusion, Business Intelligence and Analytics Tools are essential for businesses. Tools like Tableau & Leadfeeder provide valuable insights into customer behaviour, trends, and sales.
By using it, businesses can optimize their operations for the largest efficiency and thrive in an economic downturn.
Conclusion:
Recap the four game-changing tools that businesses need to survive and thrive during an economic downturn.
Encourage readers to evaluate their current toolset and consider implementing these tools to improve their business performance.
Editor's Choice: –
A Decade Of Digital Disruption: The Evolution Of Marketing In The Digital Age & Future Trends
AI Vs. Traditional Marketing: Which Is Better?
Building A Customer-Oriented Business: Empowering Your Team To Drive Success