If you know how to sell on social media, you can increase sales and spread the word about your brand. Social media marketing is a cheap way to reach more people on more channels. By making good content for social media, you can reach a larger following.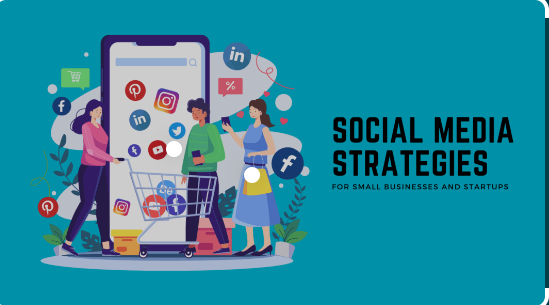 It is important to have a profile on social media. Customers expect it, and it's also a great way to find out more about your target group and connect with people online. With organic social media marketing, you can get to know your followers and find better ways to promote your goods and services.
But you can also learn how to promote a small business on social media with a small budget to help your content reach more potential customers. There are many ways to reach more customers on social media platforms. It's up to you to create interesting material that makes people want to learn more about your business and brand.
Also Read : From Like To Love: How Brand Resonance Turns Customers Into Brand Advocates
What is Social Media Marketing?
Social media marketing means using sites like Facebook, Instagram, Twitter, LinkedIn, and TikTok to reach more people and talk to clients. Social media marketing is an important part of any small business's marketing plan, but it needs a solid plan. Your customers want to see interesting material and be able to talk to you directly through comments and direct messages.
Effective social media marketing for small businesses lets you put a face on your brand and get people to come back to your website. With social media promotion, you can also get leads and make sales, as well as make more people aware of your brand. Many small businesses even use social media to help with customer service, letting customers send them direct messages to solve problems and ask questions.
How to Market Your Business on Social Media
Social media is an important part of any marketing plan, but small business owners who don't know how to use the different platforms may find it hard to get started.
Social media marketing is a good thing because it's easy to learn and doesn't take a lot of time or money. Any budget can support a strong social media marketing plan as long as you know your customers and can regularly make content that will keep them interested. Here's how to use social media to market your business.
1. Identify Your Customers
Trying to reach everyone is a mistake that many businesses make. But knowing your audience and organizing it can help you send the right message to the right people and reach your marketing goals more effectively.
This starts with figuring out who you want to reach. Who these people are should be based on your market study and the information you already have about your audience.
To find your target audience:
Compile Data:
You need to know what your target market is like if you want to reach them. To market to your audience successfully, you need to know things like their ages, where they live, and how often they interact with your brand. Even though it might seem hard to collect all of this information, customer relationship management software saves and organizes it and makes it easy to use.
Use statistics for social media:
Many platforms, like Facebook and Twitter, have built-in analytics that can tell you about your fans, like when they post, where they post, and what else they like. Also, business accounts can use these tools for free.
Check out the other teams:
If you know who your competitors are, you'll know how to talk to your viewers. You can fill in any holes in your plan by looking at what your competitors are doing wrong.
Once you know who your target group is, it's important to keep up with what they're interested in and use social listening to figure out what they want and need.
Also Read : Podcast Advertising: Is It Right For Your Business?
2. Define Your Goals And KPIs
To excel in social media marketing, it's important to create goals that guide your efforts. The SMART goal strategy provides a helpful framework to create foundational goals and meet your overall objectives.
SMART stands for:
Specific: In order to measure and meet goals, it's important to be clear about precisely what you hope to achieve. This is especially important for getting your team onboard as you work collectively towards the goal. A specific social media goal, for example, might be to increase your Twitter followers by 20% this quarter.
Measurable: You need to know definitively whether you've reached your goal or not. Measurement makes that possible. By using metrics to track your progress, you can also pivot your goals if need be. For instance, if you find that likes and follows don't lead to website traffic, you can change the metric to something that will help you achieve your goal.
Achievable: All goals should be within reach of your business. If you set goals that are unreasonable, you risk discouraging your employees and creating friction in your business plan. As you set specific, measurable goals, make sure to adjust if it seems like you aren't reaching them.
Relevant: Your social media marketing goals should ladder up to your larger business objectives. For example, if it's your objective to build brand awareness, you could set a goal to get 100 social media followers to click through a post to a landing page that describes your offerings.
Timely: To keep yourself accountable, goals should have a time limit. Instead of creating a goal for some undefined time in the near future, make sure to set a specific cadence to check in and ensure you're staying on track.
Though social media marketing has many moving parts, SMART goals give you a starting point, as well as a means to check in and make changes as needed.
3. Use Your Money And Time Wisely
For small businesses strapped for money and time, sometimes social media tasks get arbitrarily offloaded onto whoever is available. But social media management requires unique skills, like:
Strategic thinking
Organizational skills
Branding expertise
If you have the means, hiring an expert to handle social media can pay off. But if you don't have the budget for an on-staff social media manager, you can still invest in advertisements on social platforms, which can boost brand awareness and expand reach.
4. Use Different Platforms
Think about the different social media sites your buyers use every day. In the end, your social media strategy should let you reach as many people as possible. You can't do that if you only focus on one site.
Depending on your audience, many of them may use Facebook, Instagram, and TikTok at different times of the day. This gives you three chances to show them your content. Instagram, Facebook, TikTok, LinkedIn, and Twitter are all social media apps you should know. But you don't have to spend money on a strategy for each of these sites. Think about the apps that your customers are most likely to use.
5. Post Relevant Information Regularly
To be successful on social media, you need to post interesting, compelling material regularly. This will not only make your business look trustworthy, but it will also show that you know what's going on in the world and want to talk to your audience.
Social media sites' algorithms change over time, but the idea that you should post often stays the same: This helps your content show up in newsfeeds. By posting regular, relevant content, you show the algorithms that your posts are good enough to show up in other people's newsfeeds, which will lead to more people following your page.
Also Read: Dominate The Digital World In 2023: Discover The 5 Strategies You Need To Succeed
6. Interact With Followers
People like connecting with brands on social media, which is good for brands because:
What people say about your business
Increased company recognition and market reach
Cost-efficiency
There is a huge chance for a high return on investment (ROI) because 83% of customers value customer experience, which includes social media interactions in which companies make their audience feel seen, heard, and understood. You can keep up with conversations on social media in real time and respond quickly to questions or worries from your audience.
This can happen in many ways, such as:
Asking questions about what you're selling
Getting your fans to join a Facebook group
Adding GIFs, videos, and emojis to texts to make them more fun
Using tools on platforms, such as Instagram Live, to start conversations
A good plan is to give yourself an hour every day to talk to your followers on social media. But if something is very important, you should always take the time to answer quickly.
7. Stay Polite at All Times
When you post on social media, you should always remember that you are promoting your business. Too often, posts are taken out of context, which can cause trouble and make people upset. If other people on your team are in charge of social media, you might want to make a social media policy to guide their posts and conversations.
Usually, a social media policy will include the following:
Clear rules about what to post online
How to react to negative posts
Laws and rules to follow on platforms
Brand things to think about
Protocols for security
Your business can be ready for anything if it has a social media policy. It's important to remember that your customer service mindset is at the heart of what you do on social media.
8. Reflect on Your Brand Identity
Brand identity is what people remember about your business and what makes you different from your competitors. This means that print, internet, and social media marketing should all be the same.
Businesses can find it hard to keep their brand consistent, especially when they are just starting out. But it's important in all places, and social media is no exception. As you write your post, you should think about:
A business voice is the way you talk to your customers.
Putting up the same pictures on different sites
Focusing on your special selling point.
A consistent brand name will not only make it easier to decide what to post, but it can also help make people more loyal to the brand.
9. Prioritize Quality Over Quantity
You shouldn't try to post as many times as possible on as many platforms as possible. Instead, you should focus on sharing consistently and well. In fact, if you make too many low-quality posts, some social media sites may punish your account and mark you as spam. Also, whoever handles your social media, whether it's you or a teammate, posting could become too much and cause problems, which could hurt your plan instead of helping it.
You might want to use a social media schedule to reduce these risks. You can use these calendars to plan your posts ahead of time and stay prepared. Marketers can keep track of all the moving parts of social media with categories like when to post, what to post, how to post, and which platforms to post on.
You can also tell which posts are the best by asking yourself the following:
Does this help the people who follow me?
Is this something new?
Is this useful, uplifting, or fun?
If needed, does the text have a list of sources?
All of these questions will help you make good content that people will want to read and share. To reach more people online, you need to know what the best social media content is for each site.
10. Measure Your Results
Social media marketing is affected by a lot of different things, which is why it's important to look at and measure results. Analytics are helpful because they can do the following:
Optimize advertising
Set up new goals.
Check out the tracking data
Before you start tracking, though, you should figure out which metrics are most important to your business goals. The most often used measures are:
Reach
Engagement
Impressions
Mentions
Clicks on the post;
Video views
11. Develop a Unique Plan
Also Read: Why T-Shaped Marketers Hold The Key To Success In The New Marketing Age
You might want to post on as many social media sites as possible, but doing so could hurt your social media marketing plan. For example, if you want to reach people over 50, you'll find that most of them are on Facebook, so it might not be as important to focus on Instagram.
When making a social media plan, focus on:
Where your audience is
Where do your competitors post an ad
What your data can tell you
Also, you should think about how to use each site best based on what it was made for and what kind of content does well there:
Facebook: gives high-quality video streaming, including live video, as well as a messaging platform that works well and lets brands talk to their followers one-on-one.
Instagram: lets you post pictures and short videos that are both creative and interesting to look at.
YouTube: is best for longer videos that tell you something or make you laugh.
Twitter: lets people talk, share news, and get tips in real-time.
LinkedIn: Long pieces of writing, like blog posts, work well on LinkedIn.
Pinterest: lets people find new things to look at, and it uses pictures to get their attention.
Depending on how you use social media, you may not need to use YouTube if most of your followers are on Facebook. Or, if you think that pictures say more than words, Instagram might be better for you. To get the most out of your marketing efforts, make sure to look into the best way to use each site. There are many ways to help your small business grow, but social media can help you find new customers and keep the ones you already have.
12. Work With Influential People And Stars in Your Field
By using their skills to help grow your business, partnering with stars can help you take your social media marketing to the next level. Influencers have their own brands and fans who trust their knowledge and advice. Working with influential people in your field can help you raise knowledge of your brand and boost sales. Customers are more likely to trust influencers because they are real people, which you can use to your benefit.
13. Livestream Occasionally
Live streaming can help you reach more people on social media without paying to do so. Live streaming lets you reach more people at once because it plays on your fans' fear of missing out (FOMO). You can also get to know your audience better and build trust by giving them more information about your business and its goods.
14. Post at the Best Times
By making good content, you can attract more people and keep their attention. But if your customers aren't using social media when you post, they probably won't see it. If you look at your social media data, you can find out when your audience is most likely to be online. Many social media management tools also tell you when your fans are most likely to be online, so you can post at the best times. You can also try posting at different times of the day to see how activity and reach change.
Benefits Of Marketing On Social Media
Social media marketing is something that every small business should put money into to promote their business and make it more visible online. Some of the perks of marketing on social media are:
Cost-effective: The cost of selling and advertising on social media is low. If you want to post information in a natural way, it may only cost you the time it takes to do so. But advertising your business on social media is one of the least expensive ways for small companies to get the word out. You can set a budget on Facebook for as little as $1 per day.
More exposure: When you use social media to market your business, you can reach more people. Engaging content is likely to be shared, which will help you get more attention online.
Raise the brand's profile: Social media is a great way to boost online visibility and raise business awareness. But if you want to use social media to raise company awareness, you should think about making ads that reach more people.
Get people to visit business websites: Your social media marketing should send people back to your website, where they can do things like fill out forms or buy things.
Support customers quickly: With social media, it's easy and quick to handle online customer service requests. When someone sends you a direct message on social media, you can answer their questions right away. This gives them a better experience with your business because you responded quickly.
Increased credibility: By posting content that is both interesting and helpful, you can boost your reputation and show new customers that you are a thought leader they can trust.
Effectively Market Your Business On Social Media With Mailchimp
Mailchimp is a great way to sell your business on social media. Any business that wants to stand out needs to use social media marketing. Your competitors are reaching out to new customers through social media, so it's time for you to step up your efforts. Mailchimp makes it easy to sell on social media by giving you tools for making content and ads that reach the right people. You can also use our tools for managing social media to plan posts and send them out at the right time.
Editor's Choice:
A Decade Of Digital Disruption: The Evolution Of Marketing In The Digital Age & Future Trends
How Artificial Intelligence Will Transform Business In 2023?
The L.O.V.E. 4-Step Email Copywriting Framework: Connections, Trust & Conversion