Email marketing is a highly effective way to reach potential customers, but with so much competition, it can be tough to stand out. The L.O.V.E. 4-Step Email Copywriting Framework can help. This method focuses on building connections and trust with your audience to drive conversions. In this blog, we'll explore the four key steps of the framework and provide actionable tips to improve your email copywriting skills.
Email is almost 40 times better than Facebook and Twitter at getting new customers. But only if you send the right emails at the right time to the right people. 
There are many ways to write copy that gets people to buy, but there is only one way to do it consistently: use a structure.
Also Read: Cracking The Social Media Code: Winning Strategies For Small Businesses
How A Email Copywriting Framework Can Help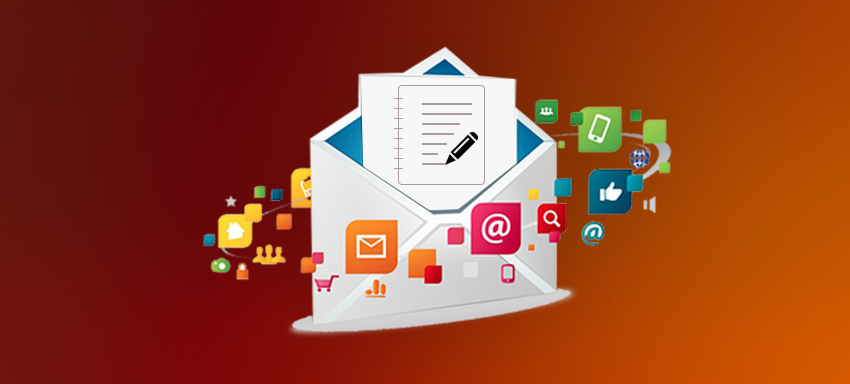 Before we show you one of our favorite frameworks, let's talk about why you should use one in the first place.
Copywriting frameworks give you a way to order your ideas and make sure you don't forget any key points that will help you reach your goals. They are easy to use and remember, and most importantly, they get things done.
But not all models for writing copy are the same. Some are stronger than others. Here are some reasons:
Neuroscience tells us that emotions play a big role in buying choices, but that's not all. The written word, including email, can make chemical links in the brain that make people loyal to a brand for life.
The L.O.V.E. email copywriting strategy is meant to make emotional connections and build the trust your prospects need to buy from you. Here is an explanation of how it works:
The L.O.V.E. Email Copywriting Framework
1. L is for "Leverage"
In the usual sense of the word, "leverage" means to make the most of something, even if it's the easiest thing. Does this rule apply to writing email copy? You bet. You only get one chance to make a good impact on someone. To do it well:
Remind the People who are Getting your Email why they are Getting it in the First Place
Think about how your reader heard about your brand for the first time. Whether they joined your list in-store, through a lead magnet, or because they bought something, make sure your first email reminds them that they asked you to give them something.
Follow-through shows that you're paying attention and that your business cares about being honest.
Use your Current Authority and Build Trust
People are thinking about a million things at once. You have to show them that, of all the sounds trying to get their attention, they can trust yours.
Adam Waytz, an Associate Professor of Management and Organizations at the Kellogg School of Management, says that trust is built when you show that you are kind, honest, knowledgeable, and reliable.
How does this work in real life?
First, let's look at something you shouldn't do:
"Dear Susie,
Hi, I'm John. I run a business called The Luxury Cars Company. People just like you have bought tens of thousands of cars from us!"
This email doesn't have any of the signs of trust we talked about above. In fact, it might come off as rude and not honest. Not at all! That's not what we want!
What do you think?
"Dear Susie,
I'm John, and I run a business called The Luxury Cars Company. We're proud that we've helped so many people find their dream cars, just like you."
Better. But it's still not quite good enough. Because many other places that sell high-end cars say the same thing. What makes this one different?
So let's give it another shot:
"Dear Susie,
Studies show that 56% of people who own luxury cars are generally happy with their lives. Because of this, customers of The Luxury Cars Company will be the first to tell you that we don't sell cars, we sell happiness. Since we opened our doors 10 years ago, we've helped over 10,000 people find happiness behind the wheel.
Even though there's still a lot to work on, we're getting much closer to the end because:
The writer seems kind (they want people to be happy, and the fact that their customers say they are happy after shopping with them suggests that they are honest).
The fact is interesting because it shows success (competence!) and speaks to what the reader wants.
Over 10,000 people have been helped, which gives a sense of reliability. If they did it for them, they can do it for you.
a. Find a Common Ground
To write copy that sticks with your readers, you need to know what's important to them. You might need to do a study on the market, look at customer feedback, or collect information on their demographics and how they act. By doing this, you can find trends, patterns, and things your customers have in common. This can help you make more targeted ads.
Do you want to go one step further? Make your message unique. Even small things, like putting "Hi Susie" at the beginning of your email, can make people much more interested.
b. Speak to their Point of Pain
You have to be careful with this one or you might get into the not-so-good area of spreading fear. Before you can offer your answer, you have to tell the reader why they need it.
This can be done in many ways. Having someone else tell you the bad news is one of the best things you can do. Sharing an interesting fact or figure from a reliable source is an easy way to do this.
You've seen this over and over again. Statistics about crashes, natural disasters, and health problems are used by insurance companies to convince people to buy policies. Statistics about crime or home invasions may be used by security companies to convince people to buy security systems. And I could keep going.
What data can you use to show your reader something they might not have known and how your product or service can help them?
2. O stands for "Offer"
Now that you've got your reader's attention and connected with them, you need to tell them why they should buy the answer you're selling. There are lots of ways to do this, but here are some of our favorites:
Focus on what makes your product or service different from those of your competitors.
Share what happy customers have said about how your product or service has helped them.
Show how your product or service has changed real people's lives for the better.
3. V stands for "Validate"
Now that you've got your reader's attention and shown them that your product or service will solve their problem, they should be ready to buy, right?
Wrong. Because your reader is coming up with arguments as fast as popcorn. They are thinking, "But wait!" right now.
Customers today are more wary than ever. People are pretty afraid of getting scammed, what with bots trying to sell them cryptocurrency on Tinder and Instagram ads getting them to buy things they never get.
To help them get past their objections, think about what might be making them pause, show them you understand, and then deal with their objections directly.
Here are a few ways to do that:
Respond in a way that makes the reader feel like they have been heard and understood. Use words that are easy to understand. Connect with the reader. And be truthful.
Show social proof like the number of followers or subscribers on social media, good reviews on review sites, or the number of happy customers.
If price is a worry, offer discounts, financing options, or different pricing plans that fit within the customer's budget.
Give customers a guarantee that they will be happy with their purchase or a free trial time to help them feel more confident in their purchase.
Show proof of your company's qualifications, certifications, or awards, as well as any media coverage or recognition from the industry.
4. E stands for "Ease"
At this point, it might seem silly to think that your reader is still on the fence when you've given them so many reasons to get off, but people are interesting. We usually don't want to commit. This is why your call to action needs to speak to both those who are ready to click "Buy Now" and those who aren't.
Here are some things you can do to make it easy for your readers to act:
Try out different calls to action (CTAs). "Learn more" and "Try it out" are great CTAs because they encourage the reader to learn more about your product or service without committing to buying it.
Good ol' fear of missing out: If your service or product is limited in time or quantity, you are more likely to get people to act.
Include an intermediate call to action. If your reader isn't ready to take the action you want them to take, give them another choice.
Think of your CTA as a date invitation. Don't be demanding. Be interesting and welcoming.
Wrapping It All Up
Once you've got the L.O.V.E. email copywriting strategy down for an email sequence, you'll want to tie it all together by giving each email a subject line that will stand out. Keep in mind that 33% of people open an email based only on the subject line. It would be a shame to spend time making an amazing email marketing series like this and then have no one read it.
Here are some tips to help you write effective email copywriting subject lines:
Keep it under nine words if possible. People can't pay attention for long.
Make sure it talks about something that hurts.
Make it weird. Strange subject lines make people want to click on them. 
Editor's Choice:
A Decade Of Digital Disruption: The Evolution Of Marketing In The Digital Age & Future Trends
The Biggest Ad Fraud Cases And What We Can Learn From Them