Search engine optimization (SEO) has long been an essential part of any successful digital marketing strategy. However, with the increasing integration of artificial intelligence (AI) in search engines, the way we approach SEO is rapidly changing. AI is changing the rules of the game, and businesses need to adapt their SEO strategies to stay ahead of the curve. In this blog post, we will explore the impact of AI on SEO, and discuss some of the best practices businesses can implement to optimize their SEO for the future.
AI is taking over the SEO business like a hurricane.
With the rise of smart chatbots that seem to be able to do all kinds of jobs as well as humans and the addition of AI-powered features to the two most popular search engines, Bing and Google, there are a lot of questions about how this will affect SEO and if it will still be around in the future.
The most famous chatbot, ChatGPT, doesn't have any doubts that SEO will be fine:
Also Read: Role Of Chatbots In Customer Service: Enhancing User Experience
And no, Artificial Intelligence doesn't think it will ever replace web search if that's your concern: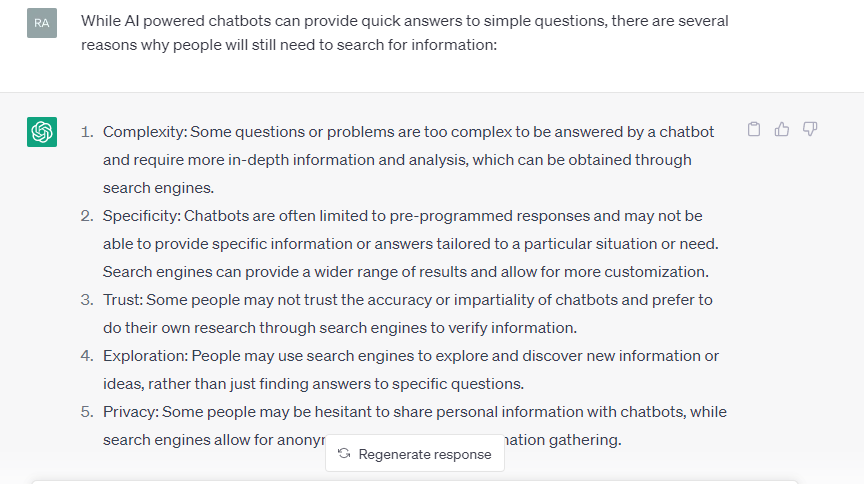 People will need search engines to get more diverse and advanced information and to find material that fits their personal tastes. With that in mind, AI technologies will have a big effect on SEO and cause it to change in a big way. And this could happen:
Search Engines into Conversational Answer Engines
Google was the first company to come up with the idea of an "answer engine" many years ago. Google no longer gives search results in reaction to a user's query. Instead, it gives quick answers and follow-up questions, suggests related news and videos, and tries to figure out the context of each query.
With the development of AI, this trend has become even clearer. For a change, Bing has become the leader in putting AI into online searches. They were the first to add conversational features to their search engines that were driven by AI. The AI bot named Bart answers search queries in real-time and even suggests follow-up questions to keep the chat going.
The bot talks to users in a conversational way, just like a person would, but it also gives them links to the articles it used to find the answers.
When a person asks a question, Google's bot types the answers right in front of them. Unlike Bing, the chatbot doesn't seem ready to say where it gets its information, which is concerning for two reasons:
Like Bard, Google's bot is looking through billions of papers on the internet to find answers. It seems very unfair to the publishers who made the papers to not let people see where they came from.
Since the bots use information from outside sources, the answers could have been made by people. If the AI technology can't reach two or more sources, it will be hard to check the information it gives.
Google says they are still working and want to hear feedback, so there is hope that they will rethink how things are set up now and be more open about where their information comes from.
So far, AI-powered search engines look like an extension of what they were before answer engines that try to help people right away by giving them more information. If they link to the sources, optimizing for these kinds of real-time answers won't be too different from optimizing for featured bits. All you have to do is try your best to answer the questions of your target audience, and the robots will probably mention you.
The only difference is that it's not clear how to measure your progress. We don't know yet how the hits on the bots' answers will be recorded and kept track of. But I think search engines will be honest about that and let you see which of your pages were linked to the most by search robots. This kind of report is already available on Google's very personalized Discover page.
Also Read: The Future Is Here: Artificial Intelligence Will Transform Business In 2023
AI and How It Will Change the SEO Business
Since ChatGPT can do all sorts of traditional SEO tasks, like creating and optimizing content, writing emails, and even making Schema code, there have been a lot of worries about how many SEO jobs will become obsolete.
Well, ChatGPT is not a threat to any industry the way it is now. It can cut down on the need to hire outside help, so SEO teams can do more work at home, including simple coding needs.
But with what it can do now, most of these jobs will still need a lot of help from people. Its written content is simple and easy to find, so it can't be used to make content. However, it can be used to make content sketches and briefs. Its code generally needs to be tweaked. It does a simple keyword study.
So far, ChatGPT is just a little helper that can speed up your work. It doesn't take your place in any way.
It might change in the future as SEO gets better, but an SEO job is so much more than just doing chores. It requires planning and making a plan. It's all about getting along with people and working together. But what's more important is that it needs to know how to deal with unpredictable human emotions, which AI will probably never learn.
The Key Lies in Mutual Benefits
So, we've seen in the last part how AI can make an SEO job easier. It's clear that both users and web publishers can gain from the technology. The key is to start using AI to figure out how we can live together safely and not threaten each other.
If you've worked in SEO for at least a few years, you've probably seen how SEO always does well when new technology comes out. SEO has never been killed by tools that help SEOs learn more and get more done. Instead, they made the industry better and more connected.
When SEO first started, we just focused on finding keywords and putting them in the web document so Google could match them to the exact question. Since then, we've come a long way. Google has spent years using semantic analysis to figure out what people mean when they search, punishing and filtering out low-quality backlinks and giving their users straight answers in the form of featured snippets and "People Also Ask" results.
About a decade ago, SEOs needed a lot of development skills to put together websites and share digital content. However, with the rise of advanced site-building platforms, anyone can now make websites and design landing pages. Web analytics has also become easy for almost anyone to use and understand, whether they know anything about SEO or not.
None of those changes has killed SEO but made it stronger.
AI technology is not a brand-new thing in the digital business world. It has been a part of customer service tools like IVR and chatbots for a long time. There are accessibility tools that use AI, on-page interaction tools that use AI, social media listening tools that use AI, and so on. We've all learned how to use multiple AI tools to improve digital marketing strategies.
SEOs can now reverse-engineer Google's algorithm, study rivals, improve keyword strategy, and build web pages that make it easy for users to find what they came for thanks to new technology. SEO is now a part of product creation, testing the user experience, and building relationships in a niche. It's no longer just about making content for search engines and making it easy for search bots to find it. SEO is getting harder and harder to kill because it got smarter and smarter.
If AI seems like it could hurt you, learn more about it. Learn to use it to your advantage, and you'll see that everyone, including your users, can gain from it.
Editor's Choice –
A Decade Of Digital Disruption: The Evolution Of Marketing In The Digital Age & Future Trends
Dominate The Digital World In 2023: Discover The 5 Strategies You Need To Succeed