The world of marketing is constantly evolving, and in today's digital age, there are endless opportunities to reach and engage with consumers. As the field becomes more complex, marketers need to possess a wide range of skills and expertise to stay ahead of the competition. This is where the concept of T-shaped marketing comes in. T-shaped marketers are those who have a broad understanding of various marketing channels and strategies but also possess deep expertise in one or more specific areas. In this blog, we will explore why T-shaped marketers are crucial to success in the new marketing age, and how you can develop the skills and mindset needed to become one.
To keep up with the fast-changing marketing landscape, it's important to be a "T-shaped marketer" and use skills from different digital areas.
T-shaped marketers are self-starters who get things done. They don't just focus on their area of knowledge; instead, they try to understand all of the digital marketing while becoming an expert in one area. 
Building a team of marketers in the shape of a T can be very helpful because it will make sure that everyone gets the bigger picture and fill in any gaps in knowledge in different areas of marketing. Let's look more closely at how being a T-shaped marketer can help you and your business
Also Read: Dominate The Digital World In 2023: Discover The 5 Strategies You Need To Succeed
What does a T-Shaped Marketer do?
A T-shaped marketer is someone who is good at about one to three of the most important parts of marketing. For example, you might be great at marketing material. You've done a lot of great things with your content and organic tactics in the past.
But they also know how to do things like email marketing, pay-per-click ads, building groups, and search engine optimization (SEO). They're just not as smart about the third part as they are about the first two.
It looks like the letter T.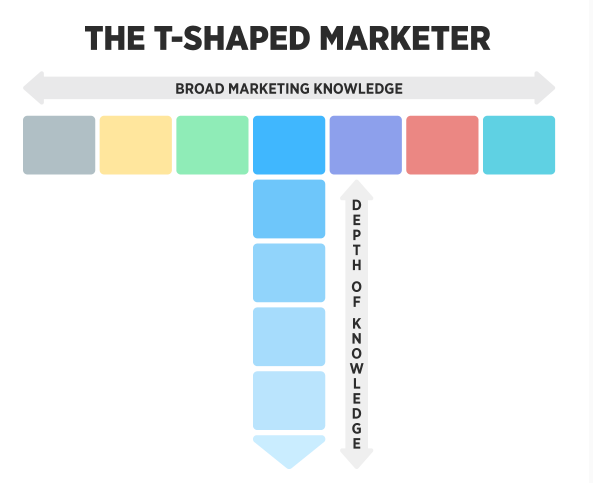 The horizontal part of the "T" is a wide range of marketing skills. It's all the other things you know about but isn't exactly an expert in.
The straight part of the "T" shows how much you know about one subject. You know everything there is to know about marketing. It would be content marketing in this case.
T-shaped marketers are not experts; instead, they are generalists who focus on one thing.
Even if they've only done a few PPC ads, they can look at a whole marketing plan and understand how each part works.
Because of this, they are very expensive.
Benefits of being a T-shaped marketer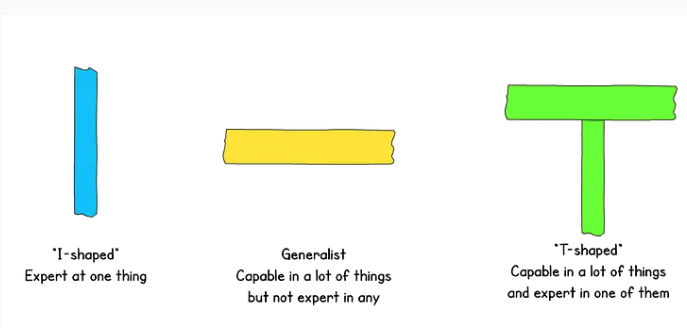 Generalists can do many things, but they don't do any of them very well. Marketers with a "I" shape are experts in one area. They make their own space in one place. On the other hand, T-shaped marketers are good at many aspects of marketing, but they are pros in only one.
So, it's easy to say that T-shaped marketers are perfect for fast-paced, agile workplaces and startup cultures. This is why:
1. Knowledge from multiple fields
T-shaped marketers can find ways to work with other teams in different fields, such as using content marketing to get more leads and social media to build communities. This can lead to better teamwork, more efficiency, and less money spent on promotion.
For example, a marketer with a T-shaped skill set who knows both digital and traditional marketing can use a digital advertising campaign to support a larger print advertising campaign.
T-shaped marketers also help companies handle different kinds of work, so they don't have to hire separate full-time marketers. They also know how the different parts of marketing work together and how to use resources to make sure that marketing efforts are successful.
Also Read: How Creative Subscriptions Are Changing The Marketing Game
2. The ability to work in any industry
T-shaped marketers have the ability to work in any industry, as most marketing tasks are industry-agnostic. This versatility allows them to easily pivot and adapt to new markets, technologies, or industries without compromising quality. In today's job market, companies are seeking flexible marketing professionals who can bring fresh perspectives and deliver results across multiple industries. With their diverse skill set, T-shaped marketers are well-equipped to meet these demands and succeed in a variety of roles.
3. Better Chances of Getting Hired:
Your skills are the foundation of your knowledge, and companies hire people based on their skills, not their jobs. 64% of experts say that skill tests are much more important than standard hiring methods for finding the right person.
In the same way, having skills that can be used in different fields raises your chances of getting a job. As a T-shaped marketer, you can be sure of getting your dream job, no matter how tough the job market is.
4. It helps you learn important soft skills
Being a T-shaped salesman gives you a wide range of ways to learn soft skills that are in demand and could help you get a better job. To handle different tasks and work in more than one area, you need to wear more than one hat at once.
So, you can build a strong set of soft skills that can be used in any business. You can learn to think critically, communicate well, work well with others, be a good leader, and negotiate well, among other things. You also learn how to quickly adapt to changes in technology, customer behavior, and market trends.
Benefits of Having T-shaped Marketers on Your Team
Having T-shaped marketers on your marketing team is like trying to fit round pegs into round holes. They fit just right. So, let's look at some of the benefits of having people on your team who are such good fits.
1. Valuable assets for any company
T-shaped marketers are very useful to any company because of their experience and unique mix of soft and technical skills. They are also called "marketing demigods" because they can take a marketing plan from 0 to 100 by themselves or with the help of others.
Who would see someone as a risk if they were pretty good at everything and could do their job well? Unless, of course, they don't know that T-shaped marketers have a competitive edge or are terrible at managing people.
2. The Whole Picture Of the Digital Strategy
From sales to customer relationship management to data, T-shaped marketers offer a complete and integrated approach to digital marketing strategies.
For example, a marketer with experience in both user experience (UX) and conversion rate optimization (CRO) could offer a unique view on self-reported versus standard marketing attribution across different customer touchpoints. This could help you understand the customer journey better and put your money into the platforms that really work.
3. Come up with creative ways to solve problems
T-shaped marketers are great at coming up with new ideas because they work in different areas of marketing and understand them. It lets them come up with workable answers to problems as they come up.
Also, they can find marketing holes that could put the growth of the company at risk.
4. Ability to Deliver Well-Rounded Results
Being knowledgeable in different areas of marketing makes T-shaped marketers all-rounders. They can think beyond the boundaries of their expertise and consider the bigger picture when developing marketing strategies. This means they consider broader business goals, external factors, and how to thrive in the competitive landscape.
5. Experienced Collaborators
T-shaped marketers can take on small tasks and help coworkers in different areas, all while keeping the company's goals in mind.
They are flexible and can change their plans and approaches based on what other people say and do. They are also willing to try new things and work with others to find the best answer.
6. Organizational Integration
Today, everything is either digital or multichannel. T-shaped marketers, on the other hand, can combine different business functions, such as branding, product development, and customer relationships, which leads to better marketing results.
They help organizations work together by getting different teams to work together to reach the same marketing goals. And they do this by setting up clear channels of contact and making marketing plans that work well together.
7. Teamwork is more effective
In the business world of today, working in groups is quickly becoming a thing of the past. Having T-shaped marketing on your team can help you encourage teamwork and reach your company's goals faster.
T-shaped marketers can also teach and share their information with other team members, making the team stronger and more knowledgeable.
T-shaped marketing has more benefits than just being a "Jack of all trades."
The first step towards leveraging T-shaped marketing is having a basic understanding of what a T-shaped marketer is. Besides being a jack of all trades, T-shaped marketers are great fits for the fast-growing business ecosystem. This is because their expertise goes beyond the marketing spectrum.
So, if you want to improve your marketing skills and make yourself more valuable, think about becoming a T-shaped marketer. In the same way, a company that wants to stand out from its competitors should put effort into building a flexible marketing team that includes T-shaped marketers.
Editor's Choice:
A Decade Of Digital Disruption: The Evolution Of Marketing In The Digital Age & Future Trends
How Artificial Intelligence Will Transform Business In 2023?
What Is AIO? The New Model Revolutionizing Content & Predictions About AI