---
If you're into marketing, you know how important it is to have a strong brand. It can help boost sales and grow your business. When people recognize your brand, they tend to trust it more. This makes it easier to promote your products or services.
But becoming a well-known brand is not easy. For most of us, the goal is just to create a brand that customers can recognize and trust. A brand that they can relate to and understand. A brand that "clicks" with them.
 So, let's dive into how brand resonance works and how it can help turn customers into devoted fans.
Also Read: Cracking The Social Media Code: Winning Strategies For Small Businesses
---
What is Brand Resonance?
Do you know how much your brand resonates with your customers? Have you ever wondered why some brands have such a loyal following that customers even tattoo their logo on their skin?
Brand resonance is the emotional connection a brand creates with its customers. It's not just about what the brand gets from its customers, but also what it gives back to them.
A brand resonates emotionally with people when it connects with their emotions. To achieve brand resonance, a brand must communicate effectively with its customers. And have an aesthetic appeal that makes them feel good about themselves or their company.
When a brand provides a sense of belonging to something bigger than themselves, customers feel like they are part of a community. Branding is the process of creating this emotional connection between your product and your audience. The goal is to create a feeling of familiarity so that customers recognize and love your product.
Let's do a quick exercise. Think about your favorite brand. It could be a coffee shop, grocery store, or hotel chain. Now, think about how you feel about that brand and how you think the brand feels about you as a customer. That's brand resonance.
On the other hand, you may have brands that you dislike and have no intention of doing business with again. That's brand dissonance, and it's not a pleasant situation for any brand to be in.
So, in simple terms, brand resonance is the ultimate goal of branding. It's about creating a strong emotional connection with your customers that makes them feel like they belong and want to stay loyal to your brand.
---
Why Brand Resonance is crucial for your business?
Brand resonance is crucial for your business to succeed. When done correctly, it's the result of all your marketing work. It's the connection between your company and your customers once their basic queries are resolved.
Once your customers are satisfied with your brand's identity, they will decide how much they want to engage with you. That's what brand resonance is all about.
People prefer to do business with brands they like and trust. If you skip any step of the resonance pyramid, you risk dissonance, which could lead to losing that customer. Like a musical note, the goal is resonance, and disharmony will turn away the listener quickly.
Remember, developing brand resonance is not a "yes or no" question. It's a continuous process that should be the core focus of your marketing efforts. You must work hard to create harmony that meets your customers' needs and desires. Encourage them to have a stronger relationship with your brand.
---
What is a Brand Resonance Pyramid?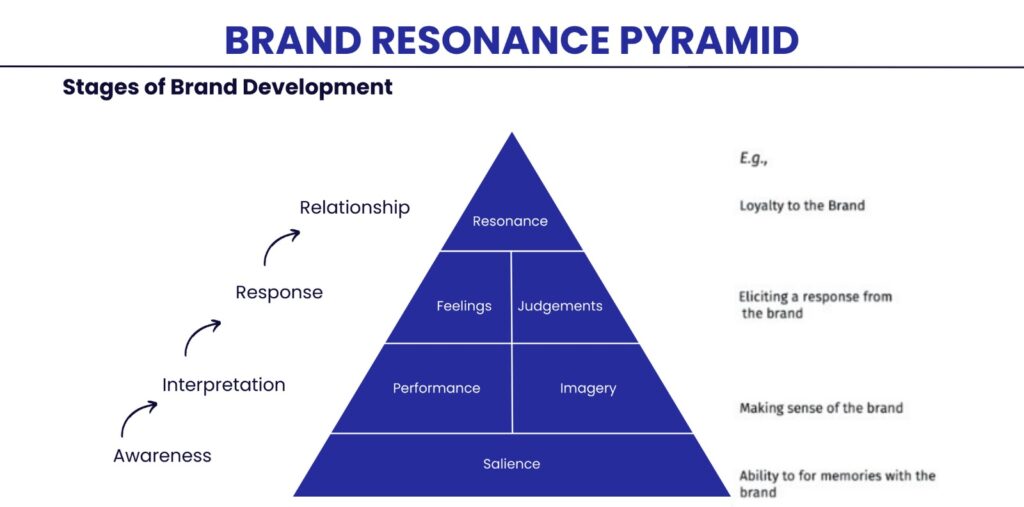 The Brand Resonance Pyramid is a model that shows how customers go from being aware of a brand to being loyal to it. It has three levels: Awareness, Attitude & Behavior, and Loyalty. Some brands have achieved brand resonance, which means they are the go-to for customers.
It is a tool that helps us understand how customers perceive brands and make purchasing decisions. It shows how consumers move through different stages before becoming loyal customers.
The first level is Brand Salience, where marketers create awareness about their product. They build an association between the product and the brand.
The second level is Brand Performance. Here marketers evaluate how the product performs and satisfies customers' needs.
The third level is Brand Imagery. Here marketers focus on customers' psychological needs associated with the product. The fourth level is Brand Judgments, where consumers judge brands based on performance factors and brand images. The fifth level is Brand Feelings, where customers develop emotional attachments to brands.
The highest level is Brand Resonance, which is the ultimate goal for any company. Here, the focus is on building a solid relationship with customers by ensuring repeat purchases and creating brand loyalty through consistent communication.
Also Read: The L.O.V.E. 4-Step Email Copywriting Framework: Connections, Trust & Conversion
---
How the Brand Resonance Pyramid Works?
Brand resonance is a way of measuring how much customers are connected with a brand. To make it easy to understand, we can visualize it as a pyramid. This idea comes from a model called Customer-Based Brand Equity (CBBE). It was created by Kevin Lane Keller in 2001 and published by the Marketing Science Institute.
The pyramid has four layers, starting from the bottom. The first layer is Brand Salience, which means making customers aware of your brand and what you offer.
The second layer has two parts: Brand Performance and Brand Imagery. This layer is where customers decide what your brand means to them. They evaluate how well you perform and how you meet their needs. As well as the image you portray through logos, fonts, colors, and other marketing aspects.
The third layer is customer response. This is where you find out how customers feel about your brand based on their experience with it. Their emotional feelings and rational judgments form the substance of this layer.
At the top of the pyramid is Brand Resonance, which is the relationship that has developed between the customer and the brand. It is based on what they know about your brand, what it means to them, and how they feel about it.
Some people criticize Brand Resonance as a hollow measure. Because it does not take into account commercial transactions between the brand and the customer. However, research shows that it is important for customers to repurchase, so it affects the commercial nature of the brand as well.
---
Brand Resonance Example –
So, have you ever felt a strong emotional connection to a brand? That's an example of brand resonance. As advisors, we can share our own experiences and compare the Resonance Pyramid for Nike, Adidas, and New Balance to see how consumers connect emotionally with each brand.


| | | | |
| --- | --- | --- | --- |
| Dimension | Nike | Adidas | New Balance |
| Brand Salience | Nike wants to inspire people to open the door to possibilities and believe that anything is possible. | Adidas aims to project an image of German design for peak performance and cool fashion style. | New Balance emphasizes its reputation for delivering high-quality products that enhance athletic performance with its German engineering. |
| Brand Performance | It is associated with top-notch sports and athlete performance. | Adidas partners with pro athletes and fashion icons to promote its brand. | It is known for its cool designs. |
| Brand Imagery | Nike's imagery is centered around dominance, authenticity, innovation, winning, and performance. | It combines performance with style in its brand imagery. | New Balance's imagery is focused on style, but it's unclear whether it emphasizes performance as well. |
| Brand Judgements | Nike is perceived as ruthless and willing to do whatever it takes to win. | They are viewed as stylish and fashionable. | It is seen as cool but not necessarily designed for sports. |
| Brand Feeling | Nike's brand evokes a sense of self-esteem and confidence in its customers. | Adidas' brand is associated with social acceptance and fitting in. | New Balance's brand is also associated with social acceptance. |
| Brand Resonance | Nike has built a strong emotional connection with its customers and is considered a "lovemark." | Adidas is also considered a "lovemark" due to its ability to resonate with its customers. | New Balance is respected but not necessarily loved by its customers. |
---
Conclusion
So, we've come to the end of our discussion, and it's pretty clear that brand resonance is a vital element in building a strong brand. When a brand can connect with its audience on an emotional level, it creates a bond that goes beyond just selling products.
The relationship between brands and consumers has evolved over the past decade, and now they talk to each other more than ever. As a result, it's essential for brands to communicate in a way that resonates with their target audience.
By establishing a deeper connection with consumers, brands can differentiate themselves from their competitors and create positive brand equity. So, if you're looking to build a strong brand, remember that brand resonance should be at the heart of your strategy.
Also Read: How Creative Subscriptions Are Changing The Marketing Game
What are your thoughts on brand resonance? Have you seen any examples of brands that have successfully built a strong emotional connection with their audience? Let us know in the comments below!
Editor's Choice:
Ideal Candidate Avatar: How To Do Marketing For The Perfect Hire
A Decade Of Digital Disruption: The Evolution Of Marketing In The Digital Age & Future Trends